8 tags
8 tags
Help: sources on Joanna Newsom's creative and...
Hi Newsom fans,  A week or so ago, byaspringforaspell posted awesome audio of Joanna Newsom playing "The Sprout and the Bean" on piano. This audio reminded me of other songs which she first debuted on piano and then later recorded on the harp for Have One on Me (see this video of "Ribbon Bows" and this video of "Baby Birch"). I am wondering if there are any...
9 tags
"And speaking of indie marquee names, the song on We the Common liable to..."
– Lindsay Zoladz for Pitchfork on Thao and the Get Down Stay Down's collaboration with Joanna Newsom. My big question/reaction is: that camp most be one of the most glorious, feminist, and creative places on the planet, right? And, of course, this means Joanna is writing new material???
10 tags
"I personally feel like a lot of the ways people (and critics…usually men)..."
– Natalie Reed, in conversation with me on twitter, on the sexist, infantilizing, and reductive media narratives about Joanna Newsom. She brilliantly synthesizes what we have been saying at Blessing All the Birds since the beginning. I also think the "fey" words are code for "we do...
4 tags
Comment from Melissa: what was and what will be
Rachel is leaving Blessing All the Birds, the blog she started with this fabulous post—a post which opened my eyes to the possibility of seriously writing about Joanna's music and her media image and which allowed me to form wonderful friendships and correspondences with so many on tumblr. Rachel, in particular, has become an amazing friend and I am constantly in awe of her intellect, her...
3 tags
Hey other people in the Joanna fanworld, Rachel here. I just read over some of the stuff that's gone in the past few days after Melissa's most recent post. Here's what I want to say and I hope you will read it. I started this blog a long while ago because I wanted to talk about Joanna Newsom's music with other fans and I wanted to talk about it seriously. I wanted to talk...
5 tags
Anonymous asked: maybe i don't interpret baby birch as a song about abortion because that's just not my interpretation????????????????
5 tags
huerca zafada: one of my weird death hills... →
desliz: one of my weird death hills concerns Joanna Newsom fans who are extremely resistant to the idea that "Baby Birch" is about an abortion, and who write lots of words about how this song is OBVIOUSLY about lots of things like… things (maybe she's just really sad she broke up with a dude before they got to make babies :( did you ever think of that) and it's JUST SO COMPLEX NO ONE CAN...
6 tags
The Baring and Burying of Bear
[CONTENT WARNING: ABUSE, DOMESTIC VIOLENCE, RAPE, SUICIDE] I have been having thoughts about the refrain of "sooner or later, you'll bare your teeth" in "Monkey & Bear" for quite some time now. I wrote an early draft of this mini-essay on my iPhone while on a disastrously long subway ride to Queens a month ago and it's taken me this long to actually set it down officially. As mentioned...
1 tag
Hi Newsom Fans, Recently I can't stop thinking about the role that Joanna's music has played in my life not only as a source of inspiration and comfort, but as a catalyst to personal reflection and growth. I was wondering if any fans would be interested in joining me in writing personal essays on how Joanna's music has impacted them. Are there any particular songs or lyrics...
6 tags
r0c1l4nd4 asked: Hi, I've been recently reading your entries on Joanna's and Kate Bush' and Björk's comparisons with all that's magical and witchy. I've found them really interesting, and there's a thought that passed though my mind that I wanted to discuss or clarify: Witches don't exist per se. What does exist, is the enormous number of women who died because of the...
3 tags
Bone From The Void: Ys →
bonefromthevoid: I was thinking in the shower just now; the reason why Ys is my favorite album is probably structural. It is very structurally clever, especially from a lyrical perspective. We know Ys is only 5 songs and only 5 characters. And if we couldn't figure that out on our own, Joanna gave it away in a magazine interview. There's all of the great mythology, theology, and literary...
4 tags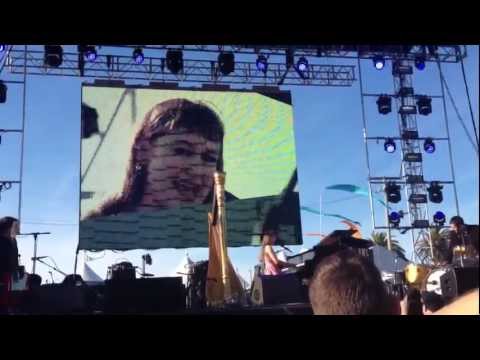 8 tags
"The Diver's Wife:" Water, Pearls, and Femininity
So, of course, I have been thinking about the newly-surfaced Joanna Newsom song over the past couple of weeks. I haven't contemplated it as much as I would like because of MY HUGE ZOMG PH.D QUALIFYING EXAM, but it's quite beautiful and wonderful and I hope to hear more live versions of it soon. I am not convinced that this a song she wrote recently. Its themes are so similar to her Ys...
3 tags
An Interpretation of Joanna's New Song, Based on...
Photo Source: John William Waterhouse, found online at Femme Classic Art Now that most of us have heard the new song (eternal thanks to those who recorded and were kind enough to share), and are in full agreement that it is stunningly, heartbreakingly beautiful, I'd like to propose a reading of the lyrics. I use the word "lyrics" with hesitation, as there's still some...
1 tag
7 tags
"The Bloody Chamber" by Angela Carter and "Go...
So, I re-read "The Bloody Chamber" by Angela Carter recently and seriously, whenever I read it, I always think about how it will help to illuminate "Go Long" and many of the themes of Have One on Me. (I suppose I am ultimately more interested in Joanna Newsom and hence, the Newsom blog and not the Carter one.) The connections between these renditions of the Bluebeard myth...
5 tags
Ribbon Bows and Fancy Clothes: Joanna Newsom on...
I originally began this post as something of a love letter to Joanna Newsom's clothing. Her closet is, no doubt, the stuff of 1970s, full skirted, chiffon-swirled dreams. Over the past year or so, Joanna Newsom Fashion, byaspringforaspell and Milky Moon forum user Claire have thoroughly researched and documented Joanna's beautiful stage costumes and provided sources for Joanna-inspired...
5 tags
"There's Blood on the Eye:" Femininity, Masochism,...
[EDITOR'S NOTE from Melissa in 2013: I never picked up the second part of this intended series. Mea culpa. Maybe sometime in the future.]  The other day on the train, I broke down and cried over "Have One on Me."  This is a pretty common occurrence for me, especially when I haven't listened to Newsom in a long time (i.e. two weeks). Most of the time, I cry over...
6 tags
Newsom and Freud
Hey everyone! As I mentioned a while back, I'm going to be working on exploring sex and sexuality in Ys through the lens of Freudian theories on the death drive and the pleasure instinct. This is most definitely something I am going to work on during the summer because right now real life responsibilities are interfering with my creative and interpretive endeavors and I took off the summer...
6 tags
Unpacking "Femininity", Childhood, and Fairy Tales...
This blog began with a post about Joanna Newsom and "enchantment", a sort of rant that grew out of my increasing frustration over the portrayal she received in major press, particularly the conversations surrounding her "fairy princess" image. As time has gone on, I have come to realize and even accept that for some listeners, this image is part of the appeal. I even admitted, in my original...
4 tags
For being so lovely about my Colleen comic, I drew... →
5 tags
To Miss Miss Cosmia As She Flies By Your Window
The art gallery mistakenly projects her face onto the portrait depicting Salome with a man's decapitated head on a plate. We all mistake that she killed him with karate, brainstew soup for dinner. Though those precise three fruits are absent from this empty bowl, it still comforts me, her words comfort me in missing your precious heart of stars. It doesn't take a voice going away for me to...
7 tags
The Death Drive, the Pleasure Instinct, and Ys
About two months ago I saw the new Cronenberg film, A Dangerous Method. I thought it was all right, but it made me start to think about how Freud and psychoanalysis may have impacted and framed the themes and motifs on Ys, particularly the album's expressions of death, sex, procreation, and desire.  I have made connections between death and sex in a previous post, "'That's...
6 tags
4 tags
A Small Diversion: Joanna Newsom and Creative Acts
One of my favourite parts of the Joanna Newsom tracked tag here on tumblr is seeing all of the pieces of art, writing, self-reflection, and general creativity that Joanna's music inspires. I thought that as a small diversion from our usual literary analysis, the fan community could help us set up a little "exhibit" of creative acts inspired by Joanna's music- an exhibit...
4 tags
Joanna Newsom featured in Feminist Card deck
[Rachel's Note: Ahhh! How cool. This looks like a really great project. Maybe some Joanna Newsom fans would be interested in helping support this creative project by visiting their kickstarter page or website! Thank you so much for sharing!] Thought you two would like to know about this Feminist Playing Card project that includes Joanna Newsom. It's a custom deck of playing cards...
8 tags
"When I broke my bone, he carried me up from the...
[Melissa's note: this is the second part and conclusion (for now) of an essay on dependency, agency, and femininity in Have One on Me. As we have written often on this blog, Have One on Me chronicles very basically the burdens and constraints and implications of femininity. One offshoot of this is the theme of dependency and almost self-victimization which runs throughout the album. We can...
3 tags
astrangemercy-deactivated201303 asked: This blog is incredible! I am enamored by Joanna Newsom and her work. Thank you so much! If possible I would love to become a contributor!
8 tags
Nobody's Perfect
[Melissa's note: This is an excellently-written and thought-provoking post about the objectification/idolization of Joanna Newsom within the tumblr community and this blog's previous criticism of the fanblog "Joanna Newsom is Perfect" and what we felt was their sexist representation and treatment of Newsom. This is the perspective we needed the entire time. And I love this...
8 tags
"Sooner or later you'll bury your teeth" -- the...
[Rachel's Note: Wow! Wow! Wow! What an incredible piece from a long time reader of this blog. I think she's introduced a really interesting idea that we haven't talked that much about on allthebirds, which is Joanna's use of 'fantasy' in her work as an embodiment of power. Definitely something to think about some more. Enjoy this fantastic read!]  Hi! I wrote...
5 tags
rvpscvllion asked: Can I just tell you how beautifully awesome this tumblr is?! I'm so glad I found it! As a feminist and and huge fan of Joanna Newsom, I feel like I've been waiting to find some honest writing involving both subjects, especially considering all the sexist things I see printed about Joanna and her music--things that are usually not meant to be taken as offensive, but are inherently sexist...
3 tags
A Response Regarding Sexual Objectification and...
[Rachel's Note: Someone sent us this quick anonymous note in response to comments I made about objectification. This is more of a feminist discussion than one specifically about Joanna Newsom, but I wanted to respond. So I did. As always, being a feminist is about engaging in conversations about these topics and I never claim to have all the answers or be an expert (at all). Sometimes I say...
4 tags
Song Analysis for Fans who Want More
Got this message this morning from one of our readers, named Joe! If any of you have any further suggestions for Joe, send them along and I will edit this post ~accordingly~. Deeper than I Thought. I'm a teenaged boy who is in love with Joanna Newsom's songs. I mean they're beautiful. Before I discovered your blog, I thought the music was just lovely to hear and so inspiring, but I had no idea...
4 tags
Reader Submission about Self-Objectification
[Rachel's Note: We just recieved this submission from a reader named Lauren and I wanted to address it immediately, not because I feel like I need to "defend" Joanna, but because I am so, so sad that girls speak this way about other girls (and women about other women), whether it's a beautiful, famous harp player or the girl who sits behind you in math class or the woman...
10 tags
"When I broke my bone, he carried me up from the...
As we have written often on this blog, Have One on Me chronicles very basically the burdens and constraints and implications of femininity. One offshoot of this, which I hope to explore today and in another post, is the theme of dependency and almost self-victimization which runs throughout the album. We can observe many images of this, particularly of the narrator being carried or supported or...
6 tags
A Funny Sea: Joanna Newsom on Fertility and...
[Rachel's Note: This is a new series I am writing in an attempt to collect my thoughts on themes of fertility and motherhood as Joanna presents them in her songs. Both Melissa and I have certainly written about and touched on these topics in previous posts. The intent of the series will be to catalogue my readings of specific songs that deal heavily with themes of motherhood or fertility. At...
4 tags
...To face unafraid the plans that we made...:... →
Firstly I would say that comparing this to rape is a bit overboard. I completely agree with you on what you have said about rape, and agree that it's ridiculous that blame is often put on girls for not 'avoiding' rape or for 'asking for it' etc., but I think that it's kind of… upsetting, I guess, that people spend so much time focusing on how Joanna Newsom is described in the media (when she...
5 tags
...To face unafraid the plans that we made...:... →
"Robin Pecknold, the Forest Gnome On August 5, Joanna travelled to the western, mountain lands of Vancouver to perform behind an imperceptible (to humans) and magical curtain which would protect her audience from the irritating Faerie "problem" of lulling people into a fatal sleep. She… Yes. There are many factors which contribute to the labels people give her, but the overarching one...
7 tags
Hey, new followers! Welcome to Blessing All the...
Rachel and I are so happy about the shout-out in Rookie Mag from First Aid Kit. But we would just like to add that although the first couple of pages of this blog will indicate differently, Blessing All the Birds is not only about dissecting Joanna Newsom's media image. We also analyze her music as feminist literature. We have been focusing mostly on the media side of things and not the...
4 tags
tomfooolery asked: rookie mag did an interview with First Aid Kit and they mention All The Birds when talking about feminism! wuhoo!
anonsy-anonso-deactivated201208 asked: Feminism and Joanna Newsom. Two of my favorite things.
2 tags
Robin Pecknold talks Joanna Newsom on SFWeekly
You wrote a bunch of the songs for Helplessness Blues during your solo tour with Joanna Newsom. How did she inspire you? It's difficult to be inspired by her because that's like saying that an ant can be inspired by a panther. So much of what she does is just impossible to the layman. I definitely didn't want to blow it at those shows and tried to write stuff I thought would...
4 tags
"Certain artists are like mythical sprites or forest nymphs. Kate Bush, Björk,..."
– Kevin Friedman of Oregon Live I recently have come to accept the fact that this perception of Joanna Newsom and (not too) similar female artists—artists who are all considered highly influential and talented and feminist—will never disappear. As long as people are intent on demeaning...
5 tags
Anonymous asked: In regards to comparing "Go Long" with contemporary feminist examinations of the Blue Beard folktale: have you considered Catherine Breillat's film Blue Beard? Although unlikely that this film influenced the writing of "Go Long," as the film was released only months before Have One on Me was released, I think it deepens feminist approach to Blue Beard.
4 tags
Joanna Newsom to Guest Star on IFC's Portlandia →
This is a bit of a personal interest post, but it makes me so happy that two of my favorite feminist musicians, Carrie Brownstein and Joanna Newsom, hang out together and collaborate. I wonder if they talk about feminist things?
8 tags
Pitchfork engages in gender-binary and sexist... →
This is a review from Pitchfork of My Brightest Diamond's latest album, All Things Will Unwind. Within the review, they compare Shara Worden's musical ambition on this album to Joanna Newsom's overall ambition. But, is that really a solid comparison when they both make very different music, lyrically, thematically, and sonically? Aren't there a ton of musicians who make...
4 tags
CALMER THAN CREAM: Elf Rock: Not Cool →
calmerthancream: Joanna Newsom: Princess of avante-garde denture-less granny harped rock. OK, so I've never been crazy about mellow surreal music. All being a little creepy, if it left me alone, I was quite happy to reciprocate. But some artists irrespective of personal taste, command respect. Bjork is a… I am just going to leave this sexist piece of bilge here for you all to ...
Hello Joanna fans, I realize that posts are becoming fewer and far between here on Blessing All the Birds since summer's end. This would be a wonderful opportunity to check out the archive to catch up on some of the posts you may have missed. There are some real gems in there. Rachel
7 tags
"In a weird instance of art imitating art, [Björk] begins by sinking to Joanna..."
– SF WEEKLY on Moon THIS MAKES ME SO FUCKING ANGRY (via spookywitch) Yeah…it makes us angry, too. Here again we see rampant misogynistic language against and the trivialization of two grand female musicians. And honestly, Björk and Joanna Newsom are not similar artists. They are just both...